Shade Sails - Beat the Heat with Style
Share
Issue Time

2022/07/28
Summary
Shade sails not only look great but are one of the most effective and affordable solutions for bringing shade to outdoor spaces.
Shade sails have become increasingly popular over the past few years, and for good reason. Not only do they look great, but they are one of the most effective and affordable solutions for bringing shade to an outdoor space - big or small, permanent or temporary.
As global temperatures gradually increase, the need for shading structures is more important than ever. Not only do they make outdoor spaces more comfortable, but they also protect you from the damaging effects of excessive UV exposure.
Despite their importance and growing popularity, few quality resources are designed to comprehensively educate people about this exciting option. Below we've put together some of the information you need to know about shade sails. Let's start by discovering the unique advantages they have to offer.
The benefits of shade sails
Shade sails have a unique set of properties that make them particularly beneficial for shading outdoor areas. Unlike other shade structures such as pergolas, umbrellas, and covered porches, shade sails are made of breathable material that allows hot air to escape while still blocking up to 98% of harmful UV rays. Because of this, shade sails can cool areas by up to 25% compared to solid shade structures and reduce ambient temperature by at least 10℃.
But shade sails' cooling capabilities don't stop outside -- they can also help keep you cool indoors. By suppressing solar radiation, the solar heat gain that would otherwise cause the indoor temperature to rise can be reduced. This can save you on your electricity bill by reducing your reliance on the air conditioner on hot summer days.
In addition to their functional properties, shade sails have:
Attractive: Shade sails can create an aesthetically unique sound spot for your outdoor living space. With so many creative arrangements and styling options to choose from, shade sails provide a look unmatched by any other shade structure.
Versatile: They can be used to cover custom areas with lots of creative licenses. As we'll see later, there are a number of possible arrangements you can use to cover any space you can imagine.
Easy to install: The shade sail is easy to install, move and remove by itself, so you can experiment with different positions and arrangements. They can also be used to provide temporary shade for outdoor events such as parties that can be easily removed later.
Affordable: Shade sails are a fraction of the cost of other shade structures that provide comparable shade coverage. This makes them truly unbeatable in value.
Are shade sails waterproof?
We know shade sails protect against the sun, but what about water? The water resistance rating is largely determined by the type and thickness of the material it is made of. Some standard shade sails are made from ordinary shade cloth, which provides little if any, protection against rain.
On the other hand, some shade sails are made of high-density polyethylene (HDPE), which acts like a thin waterproof membrane. The waterproof sunshade is made of thicker HDPE material with additional waterproofing treatment that will not affect its porous, heat leaking properties.
As long as your sail is made of HDPE fabric, installing the shade sail at an angle or twist will also help water flow off your sail, even if it is not rated "waterproof". Making sure your shade sail is installed with the proper tension (no sagging or creases) will also help prevent water from collecting in the center of the fabric.
How long do shade sails last?
The lifespan of a shade sail depends largely on the material it is made of but is generally estimated to be 3-10 years. HDPE fabrics are civilized for their longevity, and heavier fabrics (measured in grams per square meter or "gsm") are more durable than lighter ones. The most common gsm ratings for shade sails are between 160gsm and 260gsm, and most warranties reflect the thickness of the material used. However, the first point of failure is usually not the fabric, but the seam. Therefore, choosing shade sails made with reinforced seam edges can greatly extend the life of your sails.
What is the best shade sail for you?
Shade sails come in two main shapes: square/rectangular and triangular. Each has its own strengths and weaknesses, and which one you choose depends on whether you use it primarily for form, function, or a combination of the two.
Shade sail delta
Not only are they pleasing to the eye, but triangular shade sails are perfect for shading smaller areas. Due to their smaller size, they are also ideal as a temporary outdoor shading solution rather than larger rectangular sails (see below) that may require stronger support. Triangles are also more popular as an aesthetic fixture in outdoor living spaces, making them a great focal point for your exterior design layout. While square and rectangular shade sails are better suited for larger areas, multiple triangles can be used for a wider range of creative layouts.
Shade sail square and rectangular
If you want to shade a large outdoor area, a square or rectangular sail may be your best option. Note that due to their larger size, they may require a stronger support structure than their triangular counterparts. You can also increase the strength of these sails by creating a 3D effect or connecting one corner significantly higher than the others. This not only makes the sail stronger but provides a unique and stunning look. Just like a jib, you can also mount the squares in a slightly vertical sloping position to prevent moisture build-up and sagging.
The above briefly introduces the benefits of shade sails and their types. If you want to buy shade sails, please
contact us
.
Terada Hardware is a professional
custom shading structures and hardware manufacturer
. We offer a full range of hardware. Our accessories are widely used in shading structures, tensile structures, fabric stretching, wire railings, railing systems, railing systems, marine, lifting, and other industries. Our role goes beyond designers and manufacturers. We treat our customers as part of the team and support them as partners. For non-standard hardware. We listen carefully to customers' requirements and provide some professional advice and technical support. Follow the new designs to make the most suitable hardware for your project.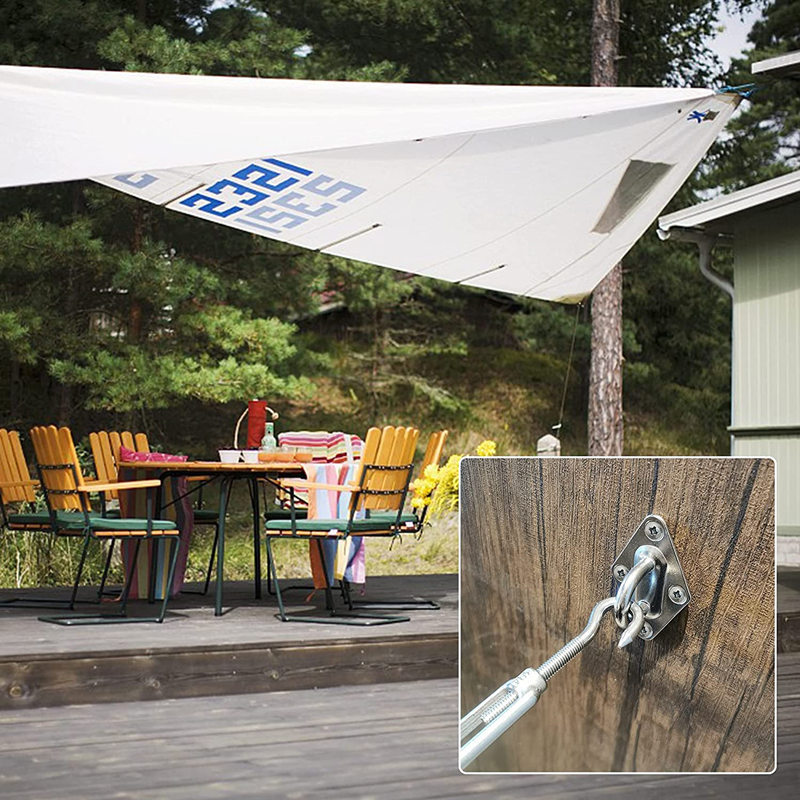 Sand Color Triangle Sun Shade Sail for Patio UV Block for Outdoor Shade&Beyond,HDPE Triangle Sun Shade Sail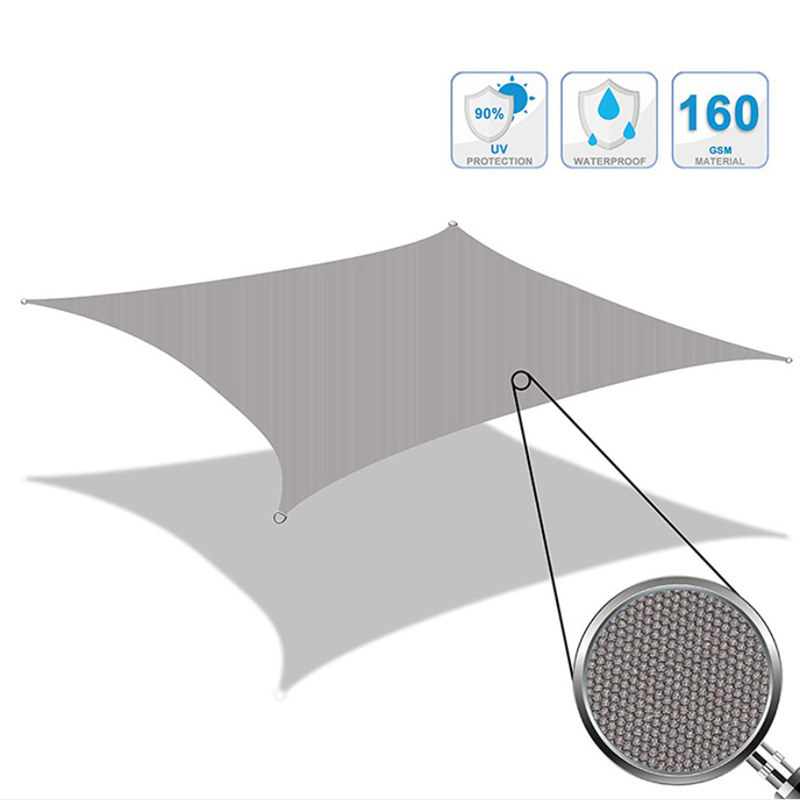 Shade Sail Hardware Kit for Triangle and Square Sun Shade Sail on Backyard or Garden