Guide to Buying Cable Railing Kit
Share
Issue Time

May 18,2022
Summary
When looking to beautify your indoor or outdoor space, there are plenty of options to choose from. This guide will give you basic information about cable railings.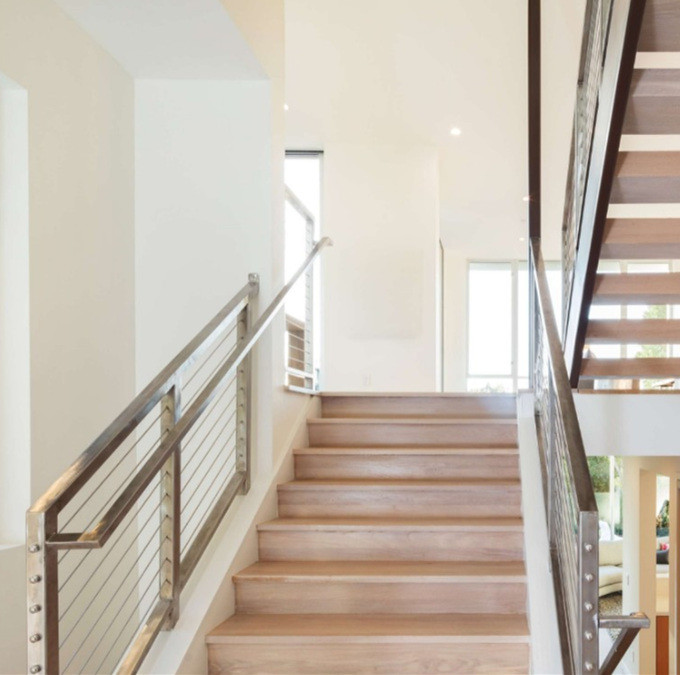 When looking to beautify your indoor or outdoor space, there are plenty of options to choose from. But have you ever thought about
cable railings
? This guide will give you basic information about cable railings.
A cable railing system consists of a series of metal wires that run horizontally between track posts. As a result, the system provides expansive views while maintaining good ventilation, creating an industrial aesthetic that complements contemporary-style homes.
Cable deck rail ideas
Vertical cable railing
This railing is a modern deck railing design on the market today. Vertical railings are made of steel cables that are tensioned between the top and bottom railings. The rails themselves are usually made of powder-coated iron and are usually black so they complement the modern look of the home.
The best thing about vertical railings is that they enhance the openness of the deck, making it feel and look larger. However, the downside of vertical railings is that they are not compatible with homes without a modern design plan.
Horizontal cable railing
Most businesses and homeowners prefer this cable railing configuration. Here, the rails run along the deck.
But why do customers have a preference for this railing configuration?
Advantages of horizontal cable railings
Low cost
Horizontal cable railings are inherently less expensive than vertical railings. This is because it requires less material to build and install. Additionally, it requires fewer connections, reducing the amount of hardware required.
Easy to install
Because less material is required for installation, the process is much less labor-intensive than vertical railings. This also helps to significantly reduce the costs associated with horizontal railings.
Versatility
You can use a wider range of materials in this configuration than vertical railings. This gives you a higher degree of flexibility in your design.
Increased sense of security without compromising vision
Horizontal railings give you the same openness and security as cable railings without compromising your view. There is still enough spacing between the wires to give you a good view of the environment beyond the railing.
Metal railing
These are versatile railings in a variety of colors and designs. Metal railings are often powder-coated to ensure their shine will last for years without the need for full-scale maintenance. However, there are two main types of metal railings: aluminum and steel. So, which one should you go for?
Aluminum and steel cable railings
While both metals are excellent choices, it is important to understand their relative strengths and weaknesses to help you make the right choice. Let's consider the following factors:
Durability
Stainless steel cable railings are known for their durability and toughness in the harshest weather conditions, which makes them very popular in places with heavy snow or extreme heat. However, stainless steel is prone to rust, which affects not only its appearance but also its structural integrity. Aluminum, while not as tough as stainless steel, has an excellent powder coating that makes it very resistant to rust.
Easy to maintenance
Remember the powder coating we just mentioned above? This makes aluminum railings virtually maintenance-free. You just need to rinse them from time to time. Other than that, they don't need extra care to maintain their beauty or strength. However, steel needs regular maintenance to ensure it doesn't rust. You may also need to repaint every other year.
Low cost
Aluminum is easier on pockets than steel.
Easy to install
Steel is more difficult to install because it is heavy. Aluminum cable guides are lightweight, making them easier to transport, cut, and install.
As mentioned earlier, cable railings usually run between the posts. While the cable guides themselves are usually made of metal, their posts can be wooden or metal. So, which post type is right for you? Let's compare.
Cable railing posts: wood vs metal
Wooden posts have a warm and inviting look but may have a limited lifespan. Nonetheless, the type of wood used determines the lifespan of the railing. Wood can be cheaper than metal posts. But in the long run, the metal posts will prove to be cost-effective as they do not need to be replaced. Wood will add uniqueness to your decor, but metal will give you more versatility.
While steel columns look elegant, using metal in balustrades and posts can become monotonous, so using wood is a great way to break up that monotony.
Also, wood generally stays cool in hot weather, unlike metal which heats up when exposed to direct sunlight.
How to choose the right cable railing hardware?
Understandably, being new to cable tracks means you may be clueless about the types and sizes of cables used in your railing system. There are many options, but few stand the test of time.
For residential projects, 1/8-inch cable is the most commonly used, as it meets building safety codes and is economical. Still, it's not very noticeable because it's so small. If you're looking for something a little more visible to enhance your aesthetics, the 3/16" cable is for you.
When it comes to the grade of cable wire, there are also a variety of options.
The lowest grade is galvanized, which is generally not recommended because it corrodes quickly. For those on a budget, T304 stainless steel is medium-grade stainless steel that is a nice step up from galvanizing. However, if you're looking for a cable type that not only looks good but maintains good looks over time with minimal maintenance, then you should consider picking up options like this T316, a top-of-the-line stainless steel cable.
I hope the above content can help you choose a suitable cable railing, or you can also
contact us
to help you choose, we will provide you with high-quality service.
TERADA is a professional
custom cable railings and accessories manufacturer
. The company has accumulated many years of manufacturing experience, a strong technical force, mature production technology, sophisticated equipment, and complete testing methods. We offer a full range of hardware. Our accessories are widely used in shading structures, tensile structures, fabric stretching, wire railings, railing systems, railing systems, marine, lifting, and other industries.