The Complete Guide to Turnbuckle Hardware You Should Know
Share
Issue Time

2022/10/08
Summary
A turnbuckle is a device used to increase or release the tension or length of ropes, cables, and other tensioning systems.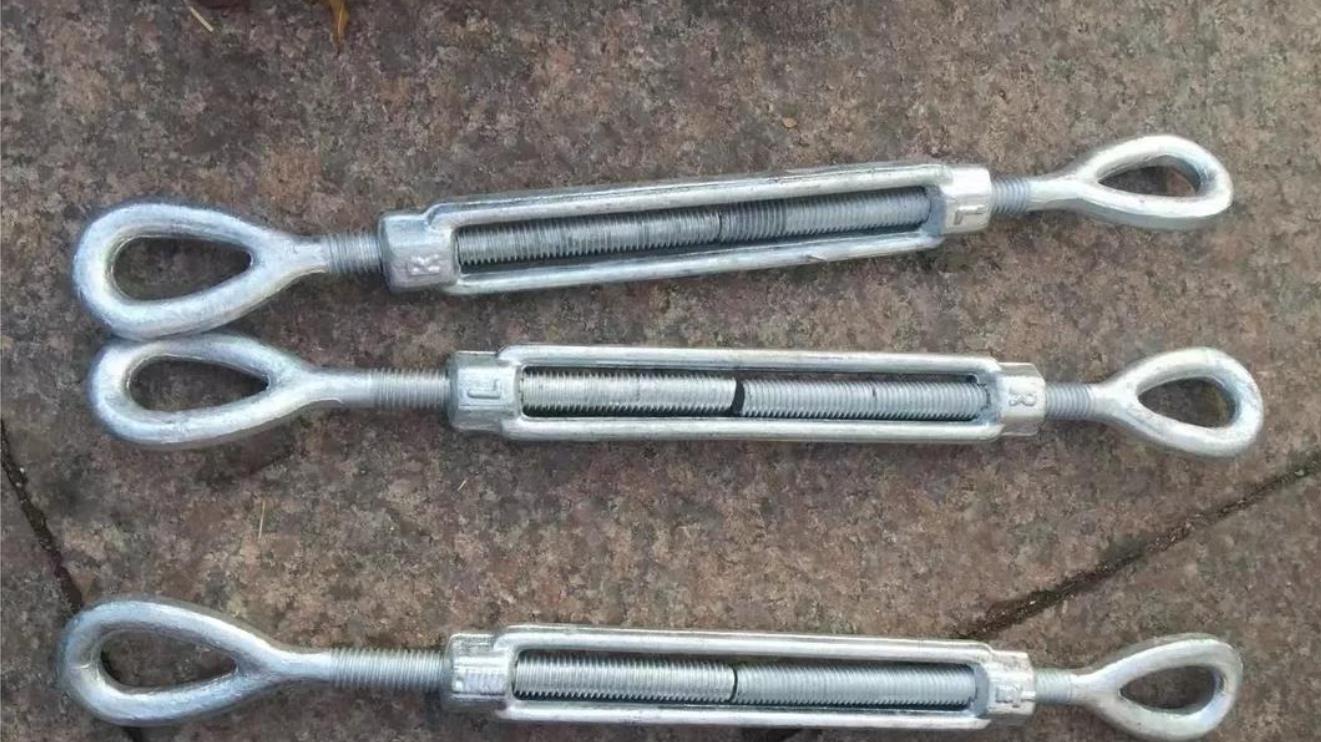 A
turnbuckle
, also known as a rigging screw, tensioner, pull screw, barrel filter, or adjuster, is a device used to increase or release the tension or length of ropes, cables, tie rods, and other tensioning systems. They are used for rigging or tensioning wires, ropes, poles, etc., often in industries such as oil and gas, construction, shipping, mining, and fishing. You can easily twist the turnbuckle body to expand or contract the length without rotating the end fittings on both sides.
Turnbuckle material
The most common turnbuckle materials are carbon steel and stainless steel. We typically add a zinc layer to carbon steel galvanized turnbuckles to prevent rust and corrosion, while stainless steel turnbuckles can be used in high chloride or high humidity environments as they provide a higher level of corrosion protection. If corrosion is an issue, stainless steel turnbuckles are your best option.
Turnbuckle end connector
Rigging turnbuckles come in many different types and sizes, but there are basically three main types of turnbuckle fittings: turnbuckle bodies, right-threaded end fittings, and left-threaded end fittings.
There are two main types of turnbuckle bodies, closed turnbuckles, and open turnbuckles, see the items below.
Turnbuckle end fittings cooperate with other anchor points to adjust cable or rope tension by turning the turnbuckle body.
Basically, the four main types of end fittings include:
Hook ends - For temporary connections, easier to install and attach or detach from other rigging components than jaw turnbuckles and eye-to-eye turnbuckles. However, it's much less practical due to the lack of a safety latch, which could accidentally loosen from an attached rigging assembly, causing the hook to fall off.
Clip mouth end - Consists of a clip, bolt, and nut, but depending on size, some jaw turnbuckles only come with cotter pins and pins. They can attach wire rope slings directly to the jaw ends and pin them to eyebolts and
Eye tip - For straight pull or straight application only, not for lifting purposes. They have no moving and opening parts and are designed to pass shackles or quick links at each eye end and then attach wire rope slings or other approved rigging components.
Turnbuckle ends can be combined depending on whether the solution is permanent or temporary, so there are many different types of turnbuckles.
Different types of turnbuckles
We offer a full range of turnbuckles from small turnbuckles to large turnbuckles. The most common types of turnbuckles are:
Jaws and jaws turnbuckles
Eye and chin turnbuckles
Eye and eye turnbuckle
Hook and hook turnbuckle
Hook-and-eye turnbuckle
If you want to get more useful knowledge about turnbuckles, please
contact us
. We would love to share more useful information with you.
Terada Hardware is a professional
custom wire ropes and accessories manufacturer
. We offer a full range of hardware. Our accessories are widely used in shading structures, tensile structures, fabric stretching, wire railings, railing systems, railing systems, marine, lifting, and other industries. For non-standard hardware. We listen carefully to customers' requirements and provide some professional advice and technical support. Follow the new designs to make the most suitable hardware for your project.