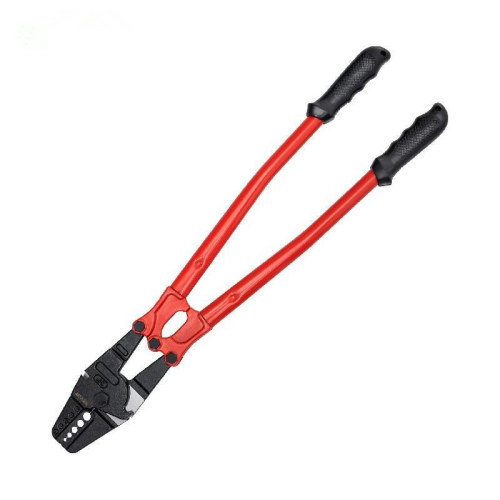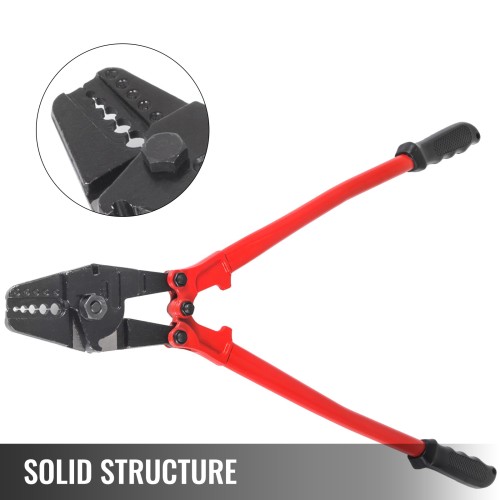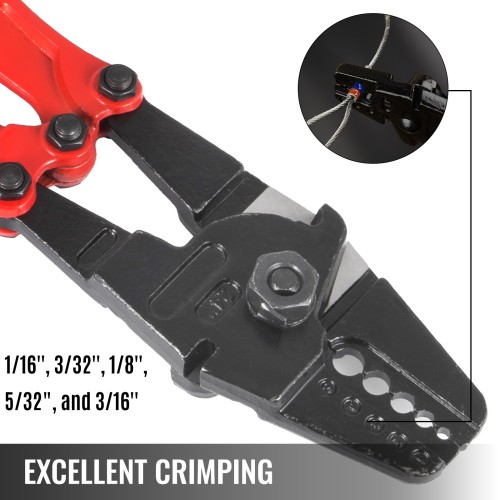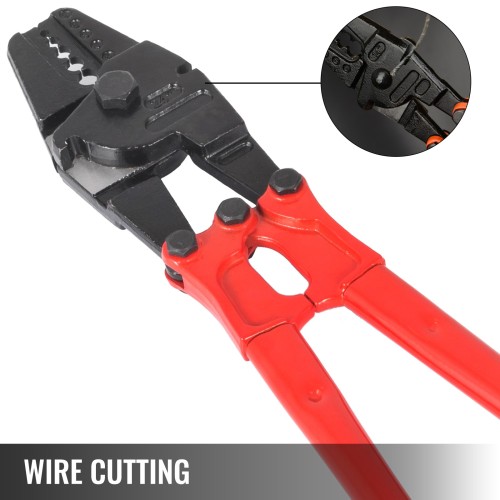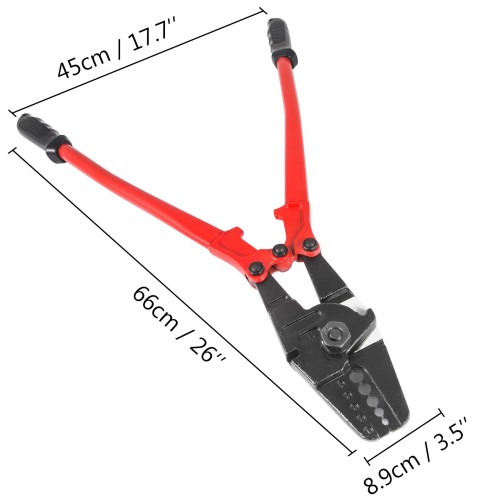 Wire Rope Swager Crimper Tool Insulated Handle Aluminum Copper Cable Sleeves cable railings kit Cutter Crimping Pliers 24/30Inch
Item specifics
Material

Marine Grade 304 or 316, Stainless Steel
Process

CNC machining,Casting,Stamping,Hot forging
Requirements

Good quality material, high surface, no rust
Package

Thickened Woven Bag,Five Ply Cartons, Pallets
Application

Deck Handrail, Wire Rope, Tensile Structure
Relative Hardware

Rigging Screw,Bottle Screws,Fork Turnbuckle
Description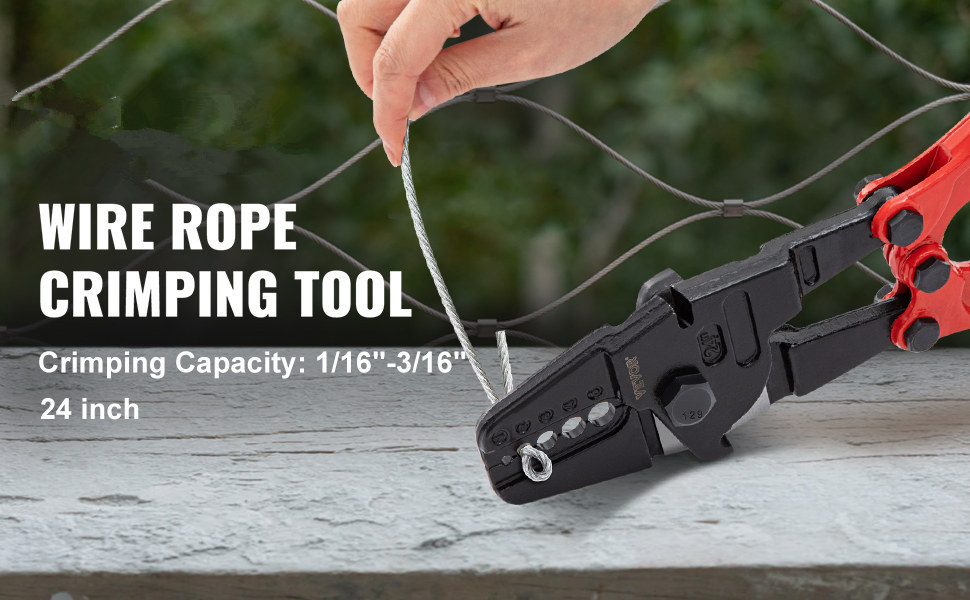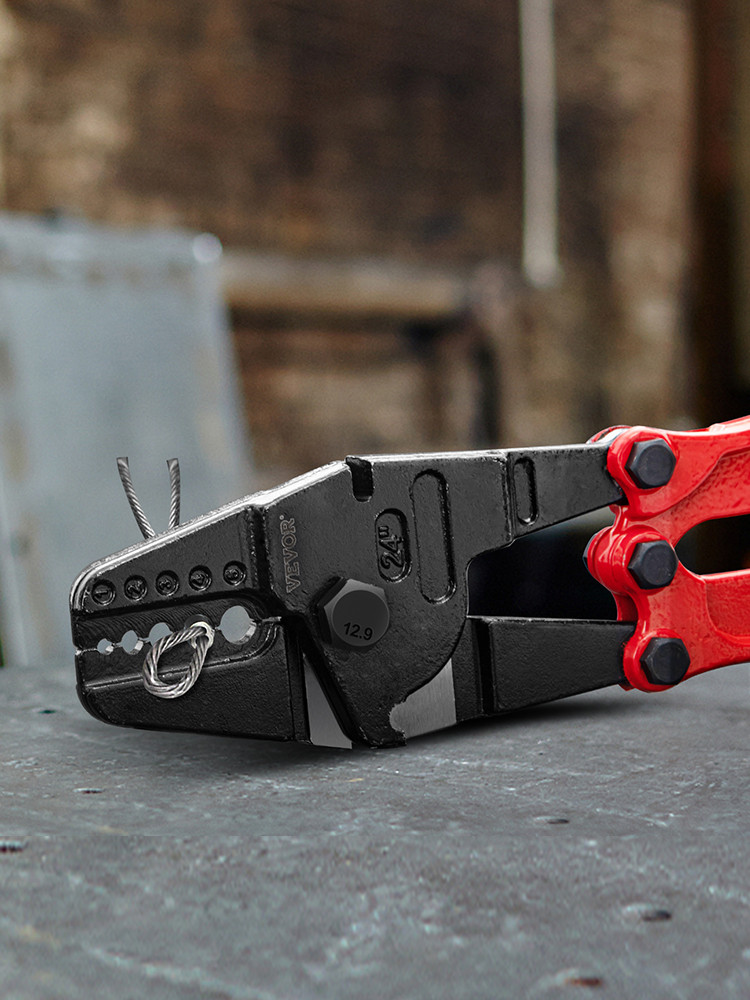 2-in-1 Crimper & Labor-Saving Handle
A cable crimper is a necessary tool for wire connection in the construction and maintenance of the electric power industry. The 5-multi cavity size ranges from 1/16'' to 3/16" or 5/32" to 5/16", satisfying your different crimping needs. Constructed with solid alloy steel material, the tool can bear much force. Eyes on our two-in-one crimper give you a better user experience.
3/16 or 5/16 inch Crimping Tool
Solid Alloy Steel Material
Ergonomic Design
Easy Operation
TERADA
wire rope fittings& tool for construction
TERADA is better brand that specializes in wire rope fittings, construction hardware and tools. Along with more than ten years experience on hardware improve and produce
, TERADA is dedicated to providing our customers with tough hardware & tools at incredibly
low prices. Today, TERADA's products are used in more than 20000 construction and
regions in
worldwide.
Premium Tough Quality
Incredibly Low Prices
Fast & Secure Delivery
30-Day Free Returns
24/7 Attentive Service
Features & Details
3/16 or 5/16 inch Crimping Tool: Our hand swager crimper is a 2-in-1 tool for crimping and cutting. Crimping capacity: 3/16"(5. 0 mm), sewage on 1/16'', 3/32'', 1/8'', 5/32" and 3/16'' sleeves or 5/32", 1/4", 5/16" sleeves, max cutting capacity: 5/32" or 5/16"(7.8 mm).
Solid Alloy Steel Material: Constructed of high quality alloy steel with heat treatment, the tool is rugged, and force transmission is improved. The cutting blade with high hardness and good abrasion resistance can bring excellent experience.
Ergonomic Design: Thickened, anti-slip, and insulated handles provide you with a comfortable and secure user experience. It is suitable for long-lasting use, and the long handle design is more labor-saving.
Easy Operation: The crimping operation can be finished in several steps: first, cut off a certain length of the cable, adjust the length in the sleeve, then place the cable in a suitable slot and crimp, then you can get a crimped cable.
Wide Application: The swaging tools for wire rope are great for crimping copper and aluminum oval sleeves and stop sleeves, commonly used in cable construction, mechanical industry, and other maintenance areas.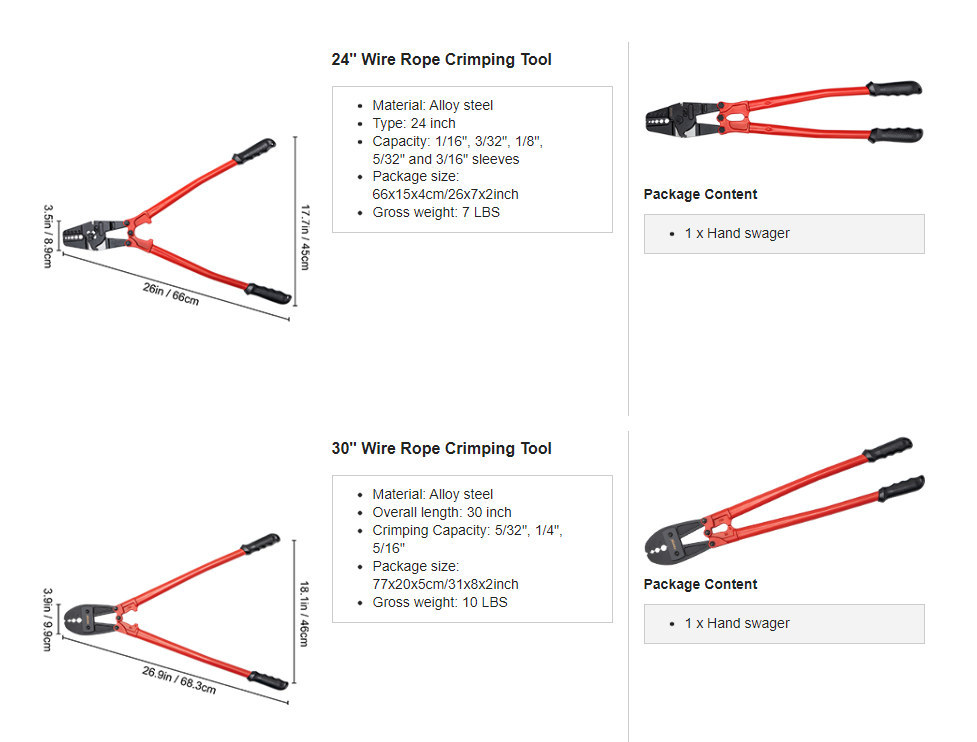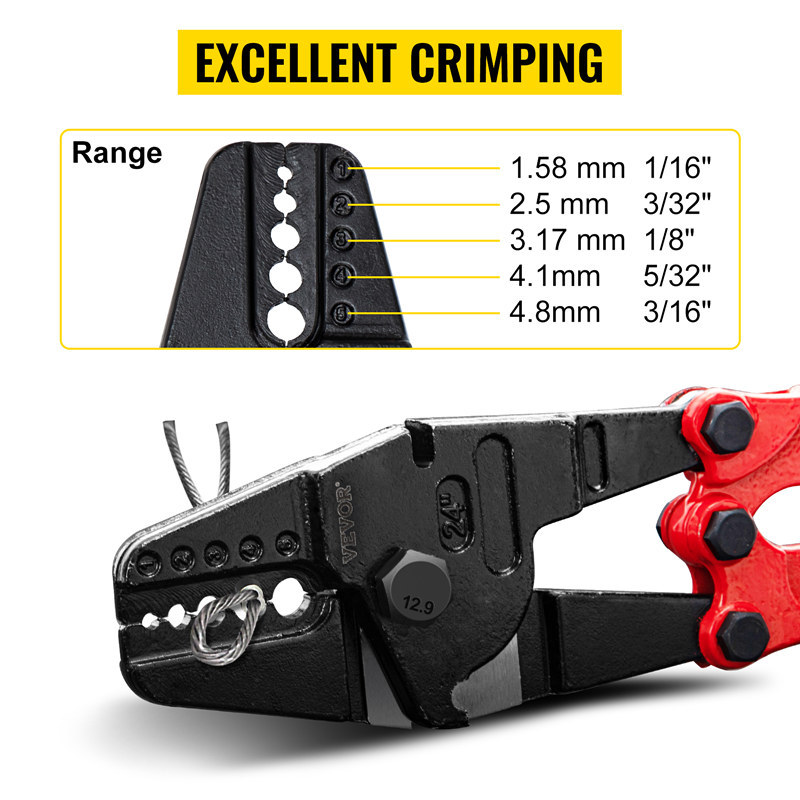 Our 24 inch swage tool features with 5 cavities for diameter of 1/16'', 3/32'', 1/8'', 5/32" and 3/16", 30 inch swage tool features with 3 cavities for diameter of 5/32", 1/4", 5/16". It gives you a tight and clean compression on each crimping.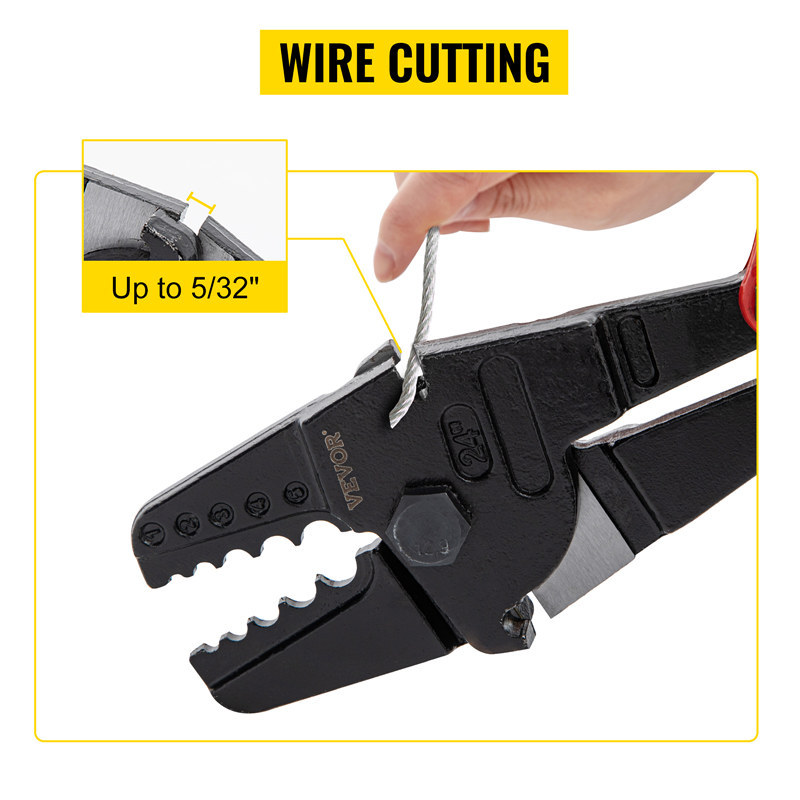 Our 24/30 inch wire rope crimping tool is a two in one device. In case of an inappropriate length, you can cut before crimping. The quick and sharp cutter can cut up to 5/32" or 5/16" steel cables.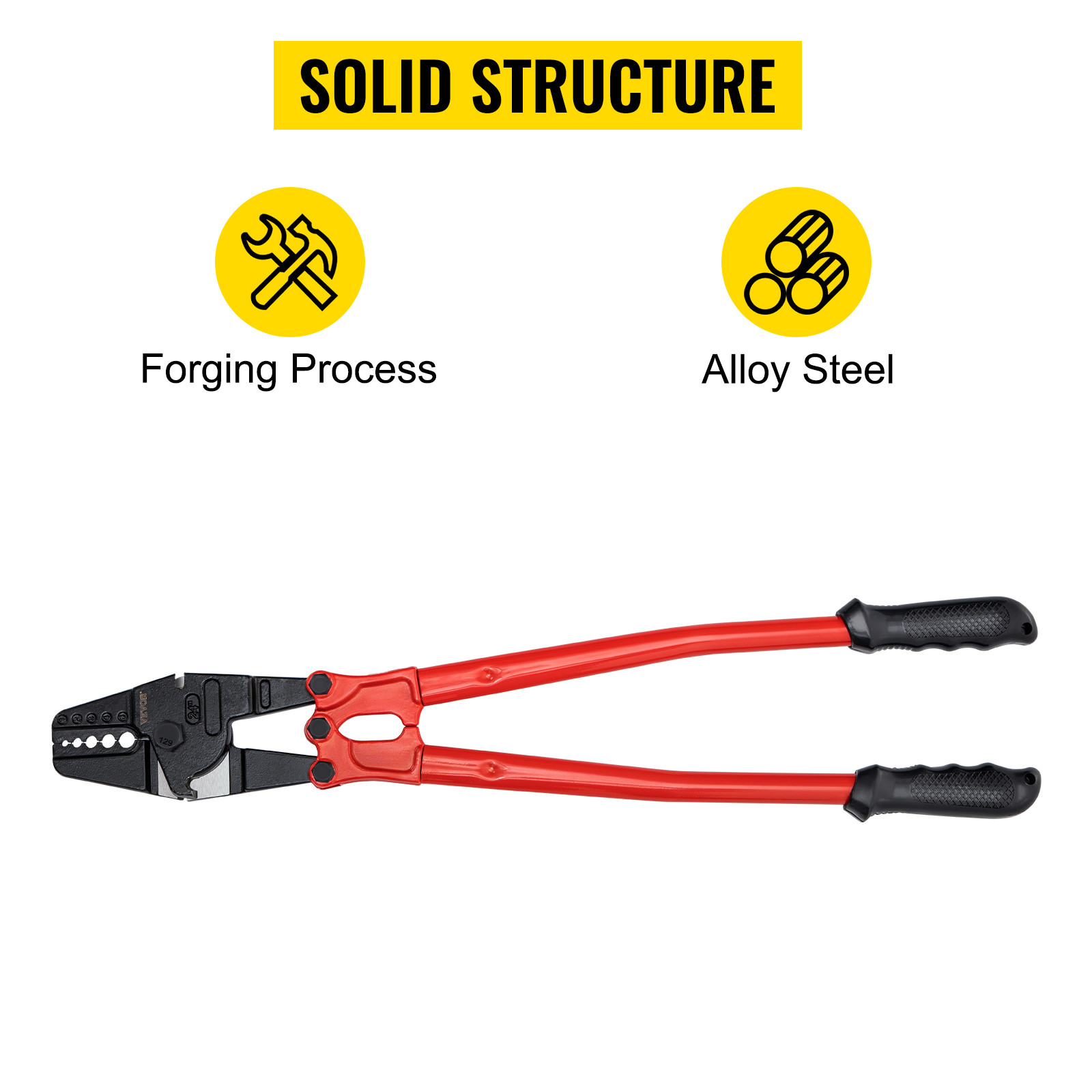 Forged alloy steel, heat-treated and polished jaws are durable and solid with high hardness and strength to crimp cables—solid material for a long service time.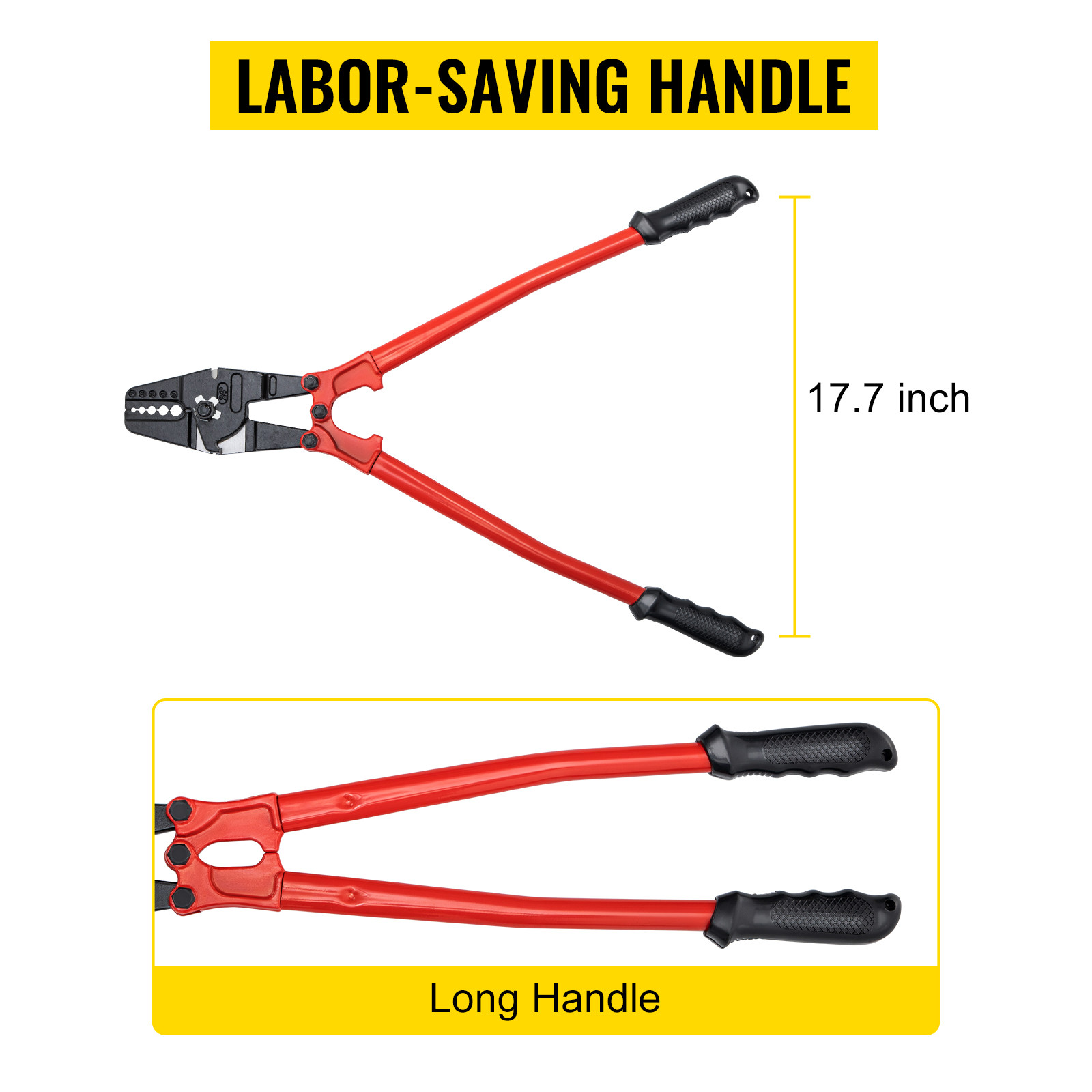 The ergonomic handle with a non-slippery grip is designed to ensure strong holds in any condition. The handle features leverage, making crimp effortless.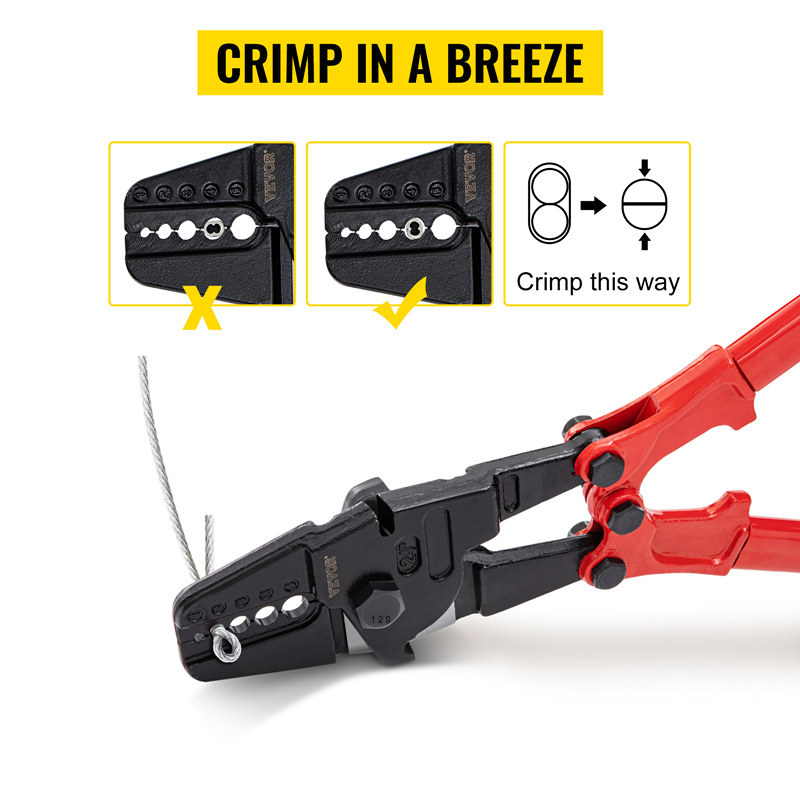 Our wire rope crimping tool is easy to use. You just put the wire or rope into the hole and press it. Then you can get a perfect sleeve.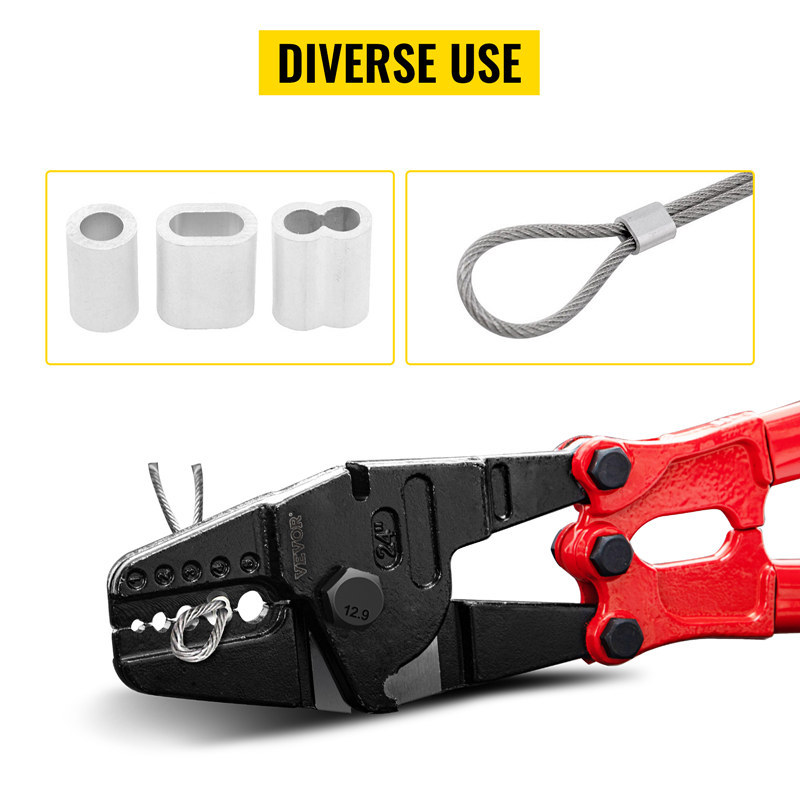 This wire crimper tool is suitable for aluminum wire rope, ferrules, crimping loop sleeves, duplex sleeves, double fishing sleeves, railing fittings, etc.
PS: ODM Order and Non-Standard products also could made and designed by Terada Team, Welcome to Contact us.