6 Common Shade Sails - Which One is Best for You
Share
Issue Time

Aug 16,2022
Summary
Whether you are looking for backyard shade sails, garden shade sails, or custom shade fabrics, it is very important to understand their types and characteristics of different types.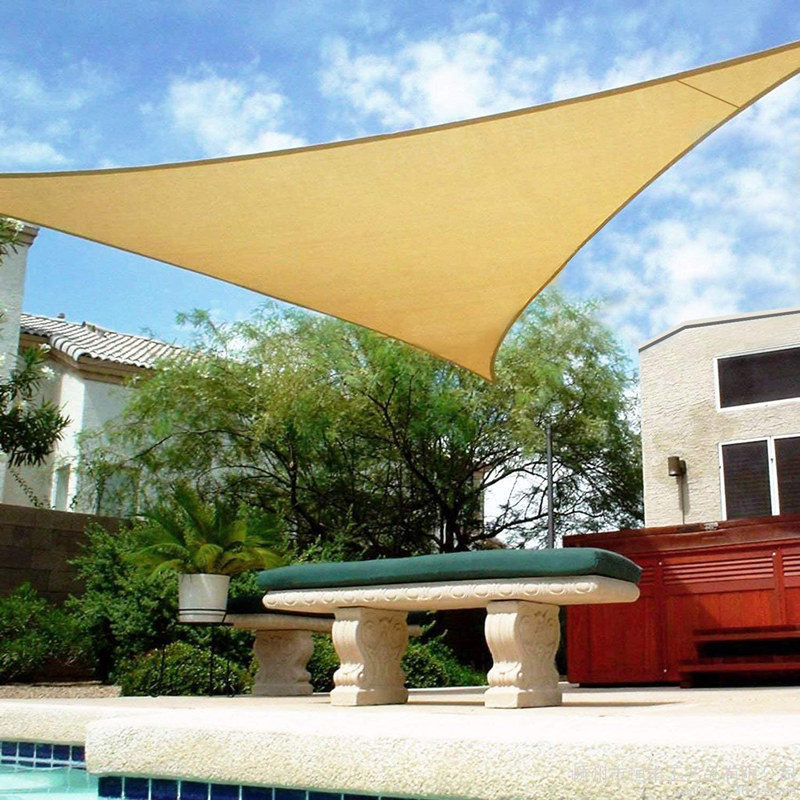 Whether you're looking for a backyard shade sail,
garden shade sail
, or custom shade cloth, installing one of these types of shade can make your home a comfortable place to live. There are many different types of shades on the market today, so it's best to consider all options first.
If you're considering a sunshade for your home and backyard area, the most important consideration is which shade you choose!
1. Fixed shade sail
Fixed shade sails are your regular sail design. It consists of shade cloth fabrics that are sewn together to form the desired 3D shape. Multiple layers of shade fabric are sewn together to give the sail strength. Multiple panels come together to form a single shape, like making a structured suit.
The edges of the blackout fabric are folded and bound. Each sail edge then has a stainless steel wire inserted into the hem for added support. The turnbuckle is then used to tighten the entire sail and the corners can then be tightened. Such a design allows the sail to be taut, giving the sail strength and minimizing flapping in the wind.
Fixed shade sails are also great for parking shading. By installing some posts in your driveway, followed by a professionally measured and installed fixed shade sail, you can get a perfectly fitting sail to protect your car or another valuable asset. Sails can span great distances without an intermediate support structure, so they are an excellent solution in this situation.
2. Retractable shade sail
There are several different varieties of retractable shade sails. There are various folding arm awnings and retractable folding sails, but the core of these retractable awnings is essentially the same. A key advantage of retractable shade sails is that they are retractable!
This may seem like a small difference, but actually flexible shades give you more opportunities. The retractable hood can be closed when you need it! When it's hot outside, simply extend your shade to provide a high level of UV protection. Then, if the sun is out and you need light and warmth, you can close in the shade and promote natural heating.
It's also a great way to create an open-air environment at night, and being able to retract shade at night provides a great climate for relaxing and entertaining guests. It's also a great way to keep your outdoor areas comfortable year-round.
3. Waterproof shades
A third category you can consider are shades that are classified as "waterproof." Compared to other backyard shade sails, there are no major limitations in the design of waterproof shade sails. The main difference between waterproof shade sails is that they are made of an impermeable rain fabric.
Waterproof shades are a great option if you want to keep the rain out in winter and keep your outdoor areas warm and dry. PVC is the fabric of choice for waterproof fabrics. There are a few other types of waterproof fabrics to choose from, including synthetic canvas and polyester.
The highest level of waterproofing is a 100% impermeable fabric. This means that no matter how long or how much it rains, water cannot penetrate the material. The aforementioned PVF fabric is a 100% waterproof fabric. On the other hand, some fabrics are considered "waterproof". These fabrics will provide some water runoff, but if it rains for a long time, the water will eventually soak through the fabric. Once this happens (water is completely saturated), the water will start dripping through the fabric.
4. Shading cloth
If you're looking for a universal shade for your home or shed area, shade cloths are a great option. The gold standard for most shades, the premium 95% UV blocking shade cloth is hard to beat.
Be careful when buying simple blackout clothes from hardware stores or cheap online stores. They tend to have lower quality shade cloth material, so they don't last long. This is especially true for cheap "tape" yarn shades. However, these shade cloths are a good option for temporary shading. Great for protecting vegetable patches and other garden areas, just don't expect these shade cloths to last longer than a year or so!
5. Garden shade sail
If you're just protecting your tomatoes behind a simple garden shade sail, chances are you want something cheap. This is where a structure like an economical "garden shade sail" can be a great solution.
When considering garden shade sails, Bunning's shade sails are a good choice in this situation. Depending on the type of plants you want to protect, it's best to use a 50% or 70% UV shade cloth.
Keep in mind that most backyard shades are probably made with 95% UV blocking fabric. This means that more than 95% of the sun's UV radiation is protected by the shade cloth. There's a big difference between 50% UV protection and 95% protection, so choose your garden shades carefully.
6. Shade sail attached to the house
When considering the installation of any sails attached to houses and shed structures, they must be properly secured. It is important to pay attention to any special fixtures used to attach the sails to the structure of houses and sheds, which must be strong enough to withstand very strong winds. In most cases, when installing fixtures (shade sails used to attach to a house) on an existing structure, you will need to reinforce the building you are attaching or securing.
Shade sails attached to house and shed structures should be relatively small given the large loads that occur. For these reasons, large shade sails installed on houses should be avoided. Shade sails attached to houses are not the first choice for any sail over 20m in size.
Another reason you might choose a shade sail attached to your house or shed structure is stormwater runoff. By using a rope track system and shade sails attached to the house, you can close any gaps between the sails and the house, creating a fully protected area. By doing this, all rainwater is trapped and the sails provide 100% of the stormwater runoff.
In conclusion
After reviewing each of the different styles of shade sails, it's easy to see the pros and cons of each, and in the process, we can weigh the pros and cons of each before deciding which one to install. If you want to buy shade sails, please contact us.
Terada Hardware is a professional custom shade sail and hardware manufacturer. Our role goes beyond designers and manufacturers. We treat our customers as part of the team and support as partners. For non-standard hardware. We listen carefully to customers' requirements and provide some professional advice and technical support. Follow the new designs to make the most suitable product for your project.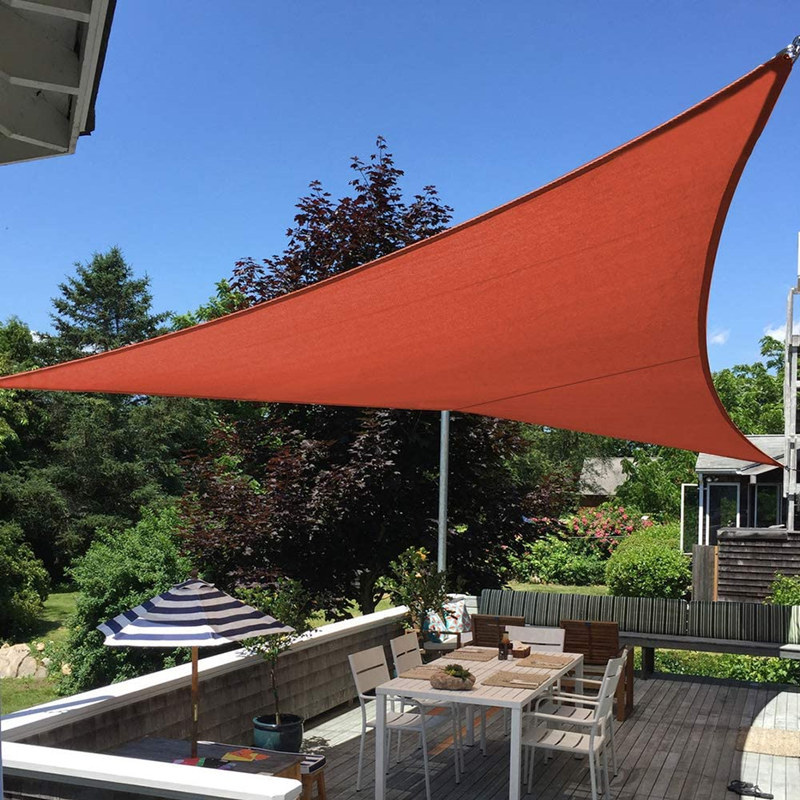 Sand Color Triangle Sun Shade Sail for Patio UV Block for Outdoor Shade&Beyond ,HDPE Triangle Sun Shade Sail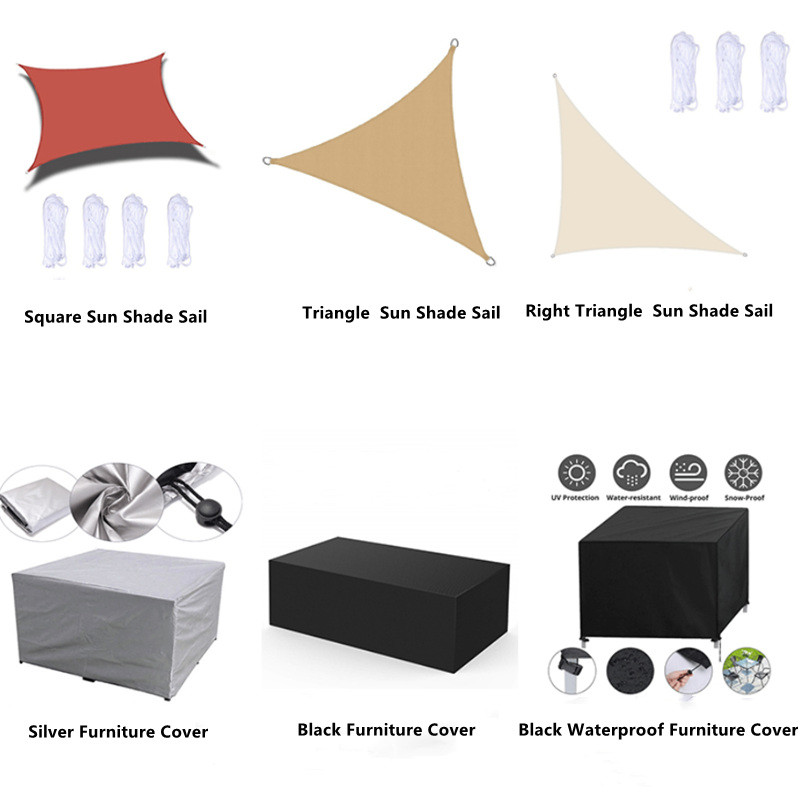 Outdoor Sun Shade Sail is Waterproof and high UV Block, Square Type, very comfortable.