How to Install a Shade Sail?
Share
Issue Time

2022/08/10
Summary
One of the advantages of shade sails is that they are easy to install and the complexity of the installation may vary depending on the size of your sail and your desired design layout.
As we have seen, one of the advantages of shade sails is that they are easy to install. While this is true, there are still specific steps to perform, and the complexity of the installation may vary depending on the size of your sail and your desired design layout.
It's also important to check your area's building codes or HOA requirements before installing sails. It is also wise to check with a building engineer to determine the specific requirements of the bracing you use to withstand certain weather conditions.
Shade sail housing bracket
Using a pre-existing structure to attach your shade sail is always ideal. In this way, you avoid the extra effort and expense of installing additional bracing. Perhaps the best pre-existing structure is your house, and a fascia is an excellent candidate for the job. If you plan to go this route, you should ensure that the rafters are adequately reinforced with screws (not nails) and possibly further with structural support brackets such as L-brackets or hurricane hangers. Shade sail attachment points should also be located at or near where the rafters meet the fascia to ensure optimum strength.
Shade pole bracket
If there is no pre-existing structure to attach your sail, you may need to install support posts. You should use at least 6x6 treated lumber, or 3" (minimum) steel pipe. The exact length depends on how high you want your sails to be in the air, and how big your post holes are (called "foundations") need to be. A general guideline for foundation depth is half the length of the exposed column. So if you need your posts to be 12 feet from the ground, your footings need to be 6 feet deep. After you have calculated your footing depth, you simply add that number to the exposed post length to determine the overall post size.
Before starting your post hole, consider contacting your local utility company to have them come out and mark the location of your gas and water lines. Most companies offer this service for free.
When you're ready to start digging, a rear hole excavator can make the task easier. They're easy to find and relatively inexpensive, making the investment well worth the investment if you plan to install multiple support positions. Whichever way you dig your foundations, make sure they're at least 12 inches wide and have enough concrete on hand to hold the posts in place.
Hardware
You have several options for securing the shade sail to the desired anchor point, such as:
Chain
Metal wire
Rope
Steel cable
Turnbuckle
Snap hook
Shackles
Eye pads
Eyebolts and screws
You can purchase these items individually or
contact us
to purchase a kit made specifically for triangular or square/rectangular shade sails. Whichever route you choose, make sure the hardware can withstand any adverse weather conditions specific to your area. Again, it might be a wise choice to contact an engineer for this information.
Tighten the shade sail
Establishing proper tension at anchor points is key to preventing damage from wind or rain. Holding the hardware, attach them securely to the anchor point of your choice facing the center of the sail. Next, attach one corner of the shade sail directly to one of the anchor points. For the remaining corners, manually stretch them as much as possible with your hands, rope, or ratchet straps.
The last corner is the trickiest because all the other corners will be strained. You can get someone to help you or use a heavy-duty ratchet strap. In any case, pull it as close to the anchor as possible and fasten it to the last piece of hardware.
Make sure all corners are equally and properly tensioned and that the fabric does not sag or wrinkle. Fine-tuning the tension will be easy if you're using a turnbuckle as part of a hardware package.
Congratulations! You have successfully installed your own shade sail that will provide comfort, protection, and satisfaction for many years to come.
Transform your outdoor living space today
Shade sails are an attractive, affordable, and easy-to-install way to turn any outdoor living space into a relaxing oasis. They are a great alternative to pergolas, covered porches, awnings, and umbrellas; generally, look and work better than any other shade structure. With a variety of design layouts to choose from, you can easily customize your shade sail to suit your specific needs and tastes. If you need to purchase awnings or hardware tools, please contact us.
Terada Hardware is a professional
custom shade sail and hardware manufacturer
. We offer a full range of hardware. Our accessories are widely used in shading structures, tensile structures, fabric stretching, wire railings, railing systems, railing systems, marine, lifting, and other industries. We treat our customers as part of the team and support them as partners. For non-standard hardware. We listen carefully to customers' requirements and provide some professional advice and technical support. Follow the new designs to make the most suitable hardware for your project.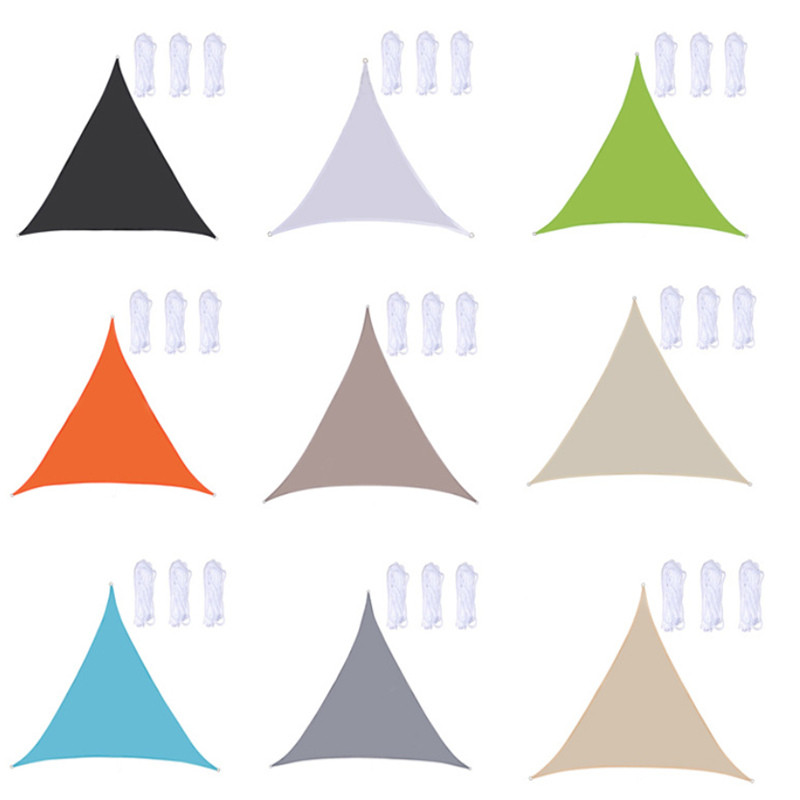 Waterproof Shade Sail UV Block Fabric Material, Triangle Shade Sail, Use for Garden and Beach, and Customized Sizes Available.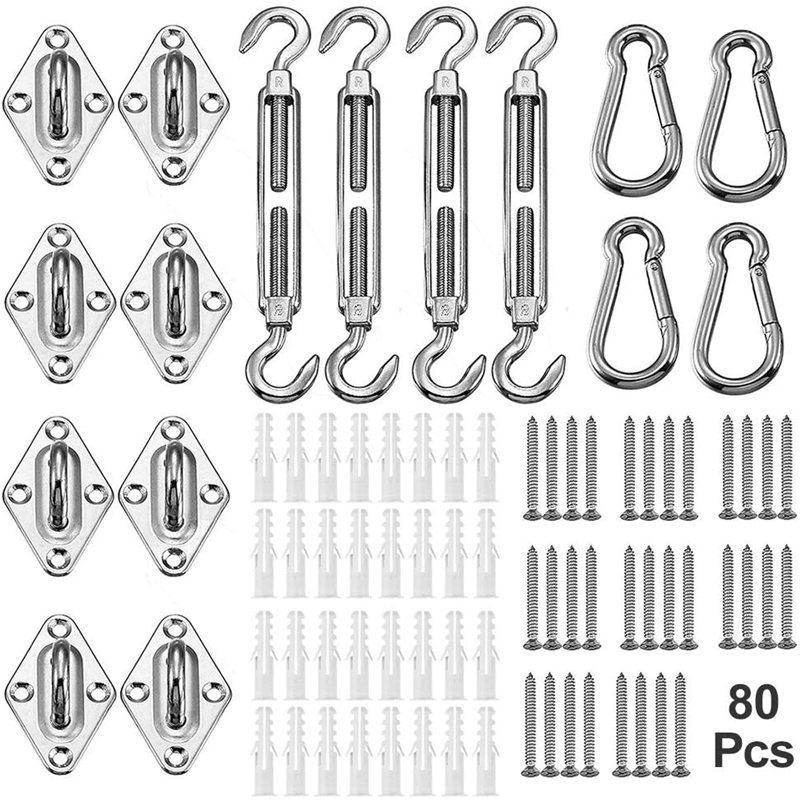 Shade Sail Hardware Kit for Triangle Rectangle Sun Shade Sail Installation, 304 Grade Stainless for Garden Outdoors